About Dell Sadler
We started out in 1997, just Dell and a pick-up truck. Now, we are blessed with great employees and lots of work. Our business has grown and we have our own shop, a small warehouse and offices inside our home in St. Michaels.
Dell and his Dad worked together for many years. Dell, Sr. is now a retired tree surgeon and continues to provide valuable advice in many areas. Mom is always running errands and helping out whenever she is needed.
They both help out when we have special events, like live radio broadcasts. We usually give away prizes, have a popcorn machine and provide special foods. Mom sure can grill a mean hot dog!
Dell's fiancee, Melissa, runs a three person office. And, we have a father/daughter, husband/wife and father/son landscaping team. When we say we're a family business, you can really believe us.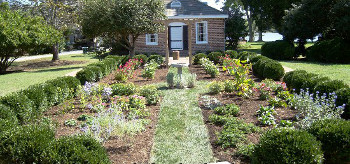 Our services include a full range of landscaping programs. Please realize that we are a landscape maintenance company. Although we offer limited design work, we specialize in doing the outdoor chores that most people dislike. We're experts at cleaning up properties and then keeping them looking sharp. We'll even work right along with you, if you're a do-it-yourselfer who just needs help weeding and hauling debris.
We go way beyond traditional landscapers. When we began the business, we used the traditional chemical-based fertilizers that most lawn care companies use. We were able to ensure lush green lawns that the high nitrogen content of these products almost guarantees.
However, we soon became aware of the harmful effects of these synthetic products, especially to the Chesapeake Bay. Basically, every lawn in Talbot and Queen Anne County drains in some way into the Bay or its tributaries. We began to test the use of natural, organic products which are in no way harmful to the Bay or the creatures living in it. Now, natural/organic lawn care is the only program we use. And we still produce lush, green lawns!
Other services include a natural/organic deer repellent spray which protects your valuable landscaping and is not harmful to deer. We also have a tick repellent program, which ensures that you and your pets do not suffer the discomfort (and danger) caused by tick bites.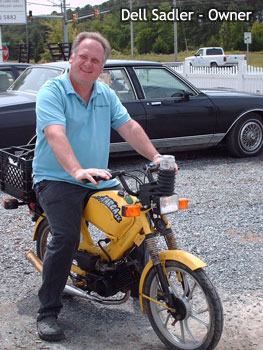 The company operates year-round. During the winter, a smaller crew runs woods restoration and clearing jobs. In the warmer months we have up to twenty employees, all highly trained in the most efficient techniques for lawn care and landscaping. If they have a question, Dell is always only a cell phone call away.
Our office staff has grown to five people. They have developed a sophisticated accounting system, streamlined the record-keeping process, created a huge database, and mailed tens of thousands of newsletters and other sales literature. They are presently working toward installing a highly functional telephone system that will enable us to track Dell to the ends of the Earth! (Or at least to the Bay Bridge!) And, if you're reading this, they have successfully developed this website!
We invite you to give us a call. We believe we offer excellent services for a competitive price!
We maintain all necessary licenses and stay up to date with state and federal requirements. We attend classes every year which assure that we stay current on all regulations. Periodic audits by regulatory agencies ensure our compliance.