Recipe of the Week
Pan Fried Almond Crusted Fish
May 31, 2012
I do a lot of surf fishing during the summer months. This is one of our favorite go-to recipes when I have a successful day. You can use this with any firm white fish. Just make sure that your fisherman (or favorite store) leaves the skin on.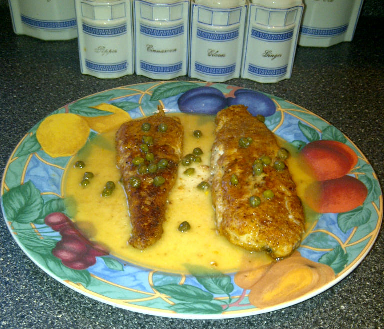 Pan Fried Almond Crusted Fish
Ingredients:
*2 fillets of any white fish with the skin on such as flounder or rainbow trout
*1 Cup whole milk
*2 Tablespoons canola oil
*3 Tablespoons butter, divided
*1 Tablespoon capers
*Juice of 1 lemon
*Kosher salt to taste
*Cracked black pepper to taste
Flour Mixture:
* ¾ Cup almond flour (unblanched)
* ¼ Cup white flour
*1 teaspoon paprika
*1 teaspoon corn starch
Place the fish fillets in a small container and cover them with milk. Let them soak refrigerated for at least a half hour before proceeding.
In the meantime, combine the flour mixture ingredients in a shallow bowl. Make sure the ingredients are thoroughly incorporated.
Remove the fish from the milk. Season the meat side of the fillets with salt and pepper to taste.
Over medium high heat, add the Canola oil and 1 Tablespoon of butter to the pan.
Dredge the fish into the flour mixture. Make sure the fillets are completely covered on each side.
Place the fish skin side down in the hot pan. Fry them until they have a beautiful brown crust on the bottom.
Carefully turn them and continue cooking until the meat side is also crusted. When finished, remove the fillets from the pan and place them on a warm plate.
Drain the excess cooking oil from the pan. Add the remaining butter and capers and cook for about 30 seconds.
Remove the pan from the heat and add the lemon juice. Stir until the sauce is completely incorporated.
Pour the sauce over the fillets and serve.