Recipe of the Week
Creamy Roasted Cauliflower
March 15, 2012
I'm not a big fan of cauliflower but this recipe has changed my mind. I came up with this when I was looking to accompany my "Grilled Garlic Crusted Rack of Lamb". As a new convert to cauliflower, I now serve this as a side dish in many meals. I also like the fact that it fits into a low carb diet and can be enjoyed guilt free.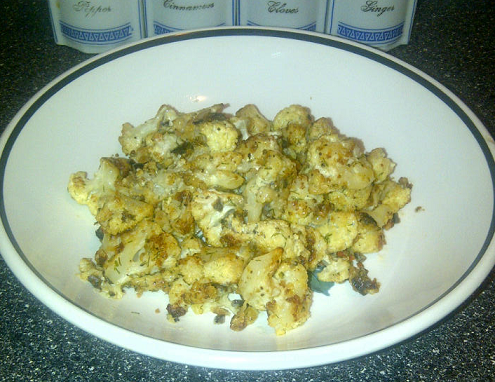 Creamy Roasted Cauliflower is delicious and healthy!
Ingredients:
* ½ head cauliflower cut into florets
* ½ cup mayonnaise
*1 Tablespoon feta cheese chopped finely
*2 teaspoons fresh chopped dill
*2 teaspoons black olives minced
* ¼ teaspoon kosher salt plus more to taste
* ½ teaspoon cracked black pepper plus more to taste
*1 clove garlic minced
*Zest of ½ lemon
*EVOO
Directions:
Combine the mayonnaise, cheese, dill, olives, salt, pepper, garlic and lemon zest in a mixing bowl. Cover and refrigerate the mixture for at least an hour so the flavors have a chance to meld.
Cut the cauliflower into bite size florets. Use a colander to rinse them and make sure they are completely drained.
Place them on a baking sheet and coat with EVOO.
Season with salt and pepper to taste.
Toss the cauliflower to make sure that everything is evenly coated.
Spread the florets into a single layer not touching if possible.
Roast in a preheated 375 degree for 20 minutes.
Remove the cauliflower florets and place them in the mixing bowl with the mayonnaise mixture. Carefully toss so that all the florets are completely covered with the mixture.
Return the cauliflower to the baking sheet and continue roasting for 10 minutes.
Gently turn the cauliflower over and continue cooking for 5 more minutes or until done.
Drain the florets on paper towels before serving. If you plan to serve them later, let them cool completely to room temperature before covering and placing them in the refrigerator.