Recipe of the Week
Chicken Cordon Bleu
March 1, 2012
After several attempts, I finally perfected this recipe one night right before Christmas. It had been a day full of shopping, wrapping and baking. I wanted to fix a special dinner for Melissa, but didn't have much time to prepare it. We stopped at the store for some opulent Baby Swiss cheese before we headed home. I defrosted what was possibly the biggest chicken breast in the world before we left that day. I prepared the chicken in record time, using brand new knife skills I learned from the Food Network. We sat down and feasted like kings. It was a wonderful ending to a hectic day.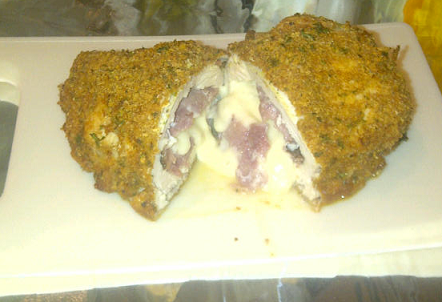 The mouth-watering results!
Ingredients:
*2 large boneless/skinless chicken breasts
*Smoked ham
*Swiss cheese
*1 cup bread crumbs
*Zest of 1 lemon
*2 Tablespoons freshly grated parmesan cheese
*2 Tablespoons freshly chopped parsley
*2 teaspoons paprika
*1 cup flour
*2 eggs beaten
*2 Tablespoons melted butter
*Kosher salt to taste
*Cracked black pepper to taste
*8-10 toothpicks
Directions:
Cut a deep pocket into each chicken breast.
Insert the ham and cheese so that the breast is stuffed, but you can still close the cut end.
Use toothpicks to seal the cut end. This will prevent the cheese from escaping as it melts.
Season the outside of the breast with salt and pepper to taste.
Set up a breading station by placing the flour in one bowl and the eggs in another. Combine the bread crumbs, lemon zest, parmesan cheese, parsley, paprika, salt and pepper in a third bowl.
Gently roll the chicken in the flour making sure it is evenly coated.
Dip the chicken in the eggs turning to ensure the flour layer has been covered.
Roll the breasts in the bread crumb mixture and place them on a baking sheet.
Drizzle the melted butter over the breaded chicken.
Bake in a preheated 350 degree oven for 1 hour.
Carefully remove the toothpicks before serving.