Landscape Design
Whether you work with us, another professional designer, or do the designing yourself, we can always help you with the installation. We have the proper equipment, strong backs and experience to install new landscaping. If you'll allow us to provide you with a quote for drawing the design, we're sure you'll find our pricing very competitive with others in this area.
However, if you get stumped on the design for your new outdoor rooms, we can assist you with that too. We have a designer on staff who has lots of experience implementing Eastern Shore landscapes. He uses indigenous plant material whenever possible. And that's no problem because plants in this area are absolutely gorgeous.
Our designer is unique in another way too. Once your design has been completed to your satisfaction, he actually works on the design crew to complete the installation.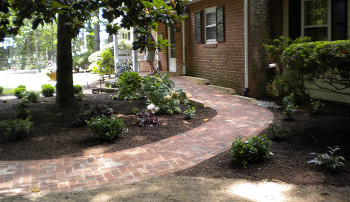 That's actually a very unusual step to design work. Generally, your designer does not work on the actual job. However, our on-staff designer mandated this step when we began doing landscape designs together. He's concerned with quality and customer satisfaction and this makes a big difference in the completed job.
Here's one other factor that may make you consider us for your outdoor design work. In price comparisons around the Eastern Shore of Maryland, you'll find that we offer the lowest prices for most design work. Our quality is excellent and our prices are among the best in the area.
We can help make your landscaping more beautiful, whether it's offering advice or doing the entire plan. Just let us know how we can assist you.