Recipe of the Week
Cheesy Gnudi Ragu with Peas and Exotic Mushrooms
October 4, 2012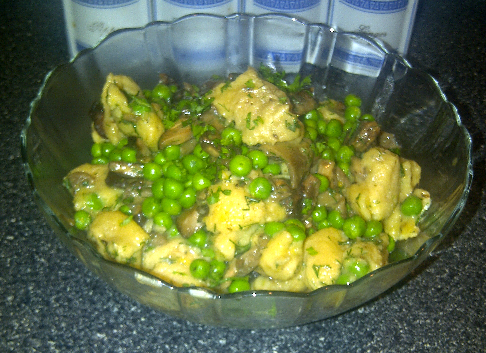 I had never heard of this before and saw it being made on the "Cooking Channel." I was really attracted to the flavor profile and the fact that it is relatively low in carbs.
Of course I altered the recipe to make it mine.
All I can say is that this is one delicious variation!
Ingredients:
*1 lb fresh ricotta cheese drained
*1 cup freshly grated fontina cheese
*1 cup freshly grated parmesan cheese
*1 egg plus 2 egg yokes
*Zest of 1 lemon divided
*Approximately ¾ cup of all purpose flour
*2 cups of fresh or frozen and thawed peas
*8 ounces of exotic mushroom such as portabella, shitake and crimini cut small
*Kosher salt to taste
*Cracked black pepper to taste
*4 Tablespoons of butter
*2 Tablespoons EVOO
*1 Tablespoon fresh chopped dill
*Parsley to garnish
Directions:
Bring a large pot of salted water to a boil over high heat.
Meanwhile, mix the ricotta, fontina and parmesan cheese with the eggs and half of the lemon zest. Season with salt and pepper to taste. Mix well until the mixture is smooth.
Begin adding flour a little at a time. Use your hands to turn the mixture adding more flour as you go. Stop adding flour as soon as it starts forming into a dough. The object is to use as little flour as possible.
Cut the dough into 3 pieces. Flour a surface and roll out each piece into a log approximately 12 inches long.
Use a knife to cut the log into 1 inch pieces. Pick up each piece and gently roll them into little balls. Set them aside until the water reaches a strong simmer.
Drop the balls into the water making sure not to overcrowd the pot. You will probably have to make several batches to finish them all.
As soon as they start floating, remove them from the pot and spread them out on a sheet pan to cool. Place the sheet pan in the refrigerator and allow them to become cold before proceeding with the next step. If you are not going to proceed with the recipe immediately, place them in a Tupperware in layers separated by tin foil and keep refrigerated.
Prepare a large sauté pan by heating the EVOO over medium heat.
Add the mushrooms and cook until they release their liquid and start to brown. Season with salt to taste and remove them from the heat. Set them aside and let them drain on paper towels until you are ready to proceed. Drain the excess oil and liquid from the pan and wipe it clean.
Place the butter in the pan and cook over medium low heat until it is golden brown.
Reduce the heat to medium low and begin adding the gnudi. Sauté for 1 – 2 minutes carefully turning them as they cook.
Add the peas and the mushrooms and continue cooking for another 1 – 2 minutes until everything is heated through.
One minute before you are finished cooking, add the dill and the rest of the lemon zest.
Remove the dish from the heat and place it in a serving dish.
Garnish with fresh chopped parsley and serve.