Recipe of the Week
Spaghetti Alla Puttanesca (Lady of the Night)
April 5, 2012
I took an Italian cooking class at our local college and this is one of the recipes that I learned. Literally translated, the name refers to "Lady of the Night". This sauce is simple and inexpensive to make. It was often served to the customer after an extended evening of romantic favors.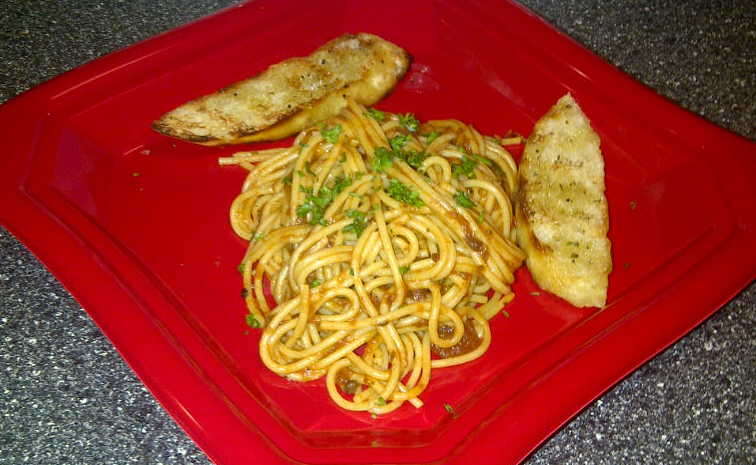 Try not to giggle at the origin of this recipe.
Ingredients:
*EVOO
*2 garlic cloves
*1 teaspoon red pepper flakes
*3 anchovies
*2 cups marinara sauce
*1 tomato chopped small
* ½ cup Kalamata olives chopped small
*2 Tablespoons capers drained
*15 fresh basil leaves roughly chopped
*1 lb pasta ragati
*Fresh parsley to garnish
Directions:
Sautee the garlic and red pepper flakes in a small amount of EVOO.
Add the anchovies and smash them until they become paste.
Add the marinara sauce, tomato, olives and capers. Let the mixture simmer for 10 minutes.
At the end of the cooking time, remove the sauce from the heat and add the basil leaves.
Stir until the basil leaves have become wilted.
Cook the pasta according to packaged directions. When it is cooked to an al dente state, add it to the sauce and toss so the pasta is evenly coated.
Garnish with pasta with fresh chopped parsley.
I love to serve this dish with the "Basic Grilled Crostini" bread recipe located under "Appetizers, Dips and Salsa".