Recipe of the Week
Grilled Garlic Crusted Rack of Lamb
March 22, 2012
While this can certainly be made in the oven, the grill gives the lamb a flavor that cannot be duplicated. This is the dish that is sure to impress your guests. It's got the WOW factor.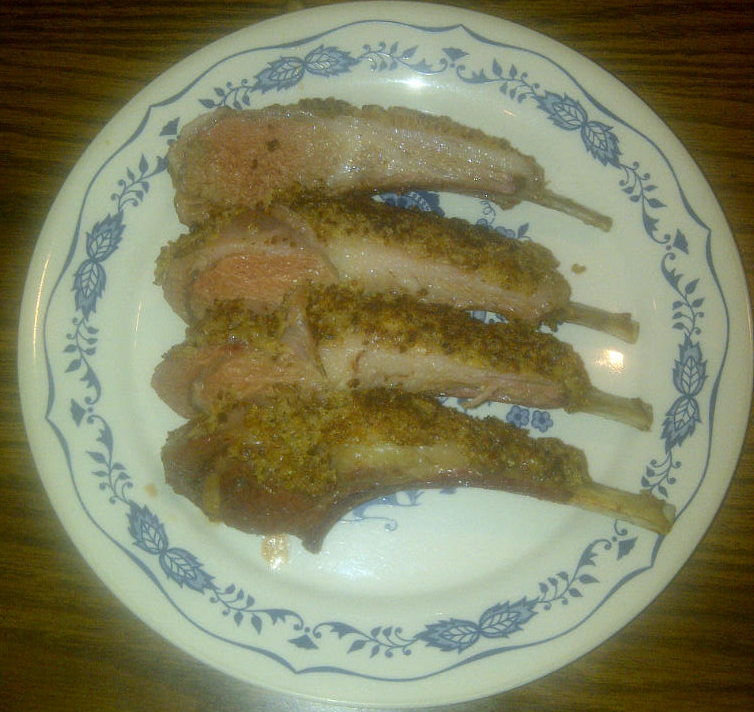 Grilled Garlic Crusted Rack of Lamb
Ingredients:
*2 racks of lamb about 4 bones each
*2 heads of garlic
*4 Tablespoon EVOO
* ¼ cup water
*3 Tablespoons whole grain Dijon mustard
*2 Tablespoons fresh lemon juice
* ½ teaspoon kosher salt plus more to taste
* ½ teaspoon cracked black pepper plus more to taste
*1 ½ cups fresh white breadcrumbs or Panko
*2 Tablespoons melted butter
*Cooking spray
Directions:
Prepare a small casserole dish by applying cooking spray.
Remove most but not all of the husk from the garlic cloves.
Cut the cloves in half and lay them cut side up in the casserole dish.
Drizzle 2 Tablespoons of EVOO over the cut sides of the garlic.
Pour the water around the cloves.
Cover and bake in a preheated 375 degree oven for about an hour or until very soft.
Allow the garlic to cool slightly and then squeeze the cloves into a small bowl. Discard the remaining husks.
Add the mustard, lemon juice, ½ teaspoon salt, ½ teaspoon pepper and the remaining 2 Tablespoons of EVOO to the garlic. Use a fork to smash and mix the garlic cloves until an even paste is formed. Cover and set the mixture aside until ready to use.
Prepare the fresh bread crumbs and season them with salt and pepper to taste. Set them aside until ready to use.
Prepare the grill for high heat. When the coals are ready, arrange them for indirect cooking. Place a drip pan in the middle of the coals.
Remove the membrane from the back of each rack. Alternatively, you can slice the membrane between each bone. Season the racks of lamb with salt and pepper to taste. Arrange them fat side up in the center of the grill away from the heat. Cover the grill and let them cook for 15 minutes.
At the end of the 15 minutes, rub the garlic mixture evenly over the fat side of the racks. Immediately cover the garlic with the bread crumbs.
Drizzle the melted butter evenly over the racks.
Cover the grill and allow the racks to continue cooking for approximately 20 minutes to achieve medium rare.
Insert an instant read thermometer into the thickest part of the rack away from the bone to test for doneness. It will register 130 degrees for rare or 135 degrees for medium rare.
When done, remove the racks from the grill and cover them with foil. Let them rest for 10 minutes.
Place them under the broiler for approximately 30-60 seconds until the bread crumbs are golden brown.
To serve, place them on a cutting board and slice each chop between the bones.
Serve immediately.