Recipe of the Week
Provincial Seafood Stew
April 26, 2012
This healthy stew is delicious and leaves you feeling very satisfied. You can use any combination of seafood that you like, but make sure that there is a total of two pounds of seafood in your recipe.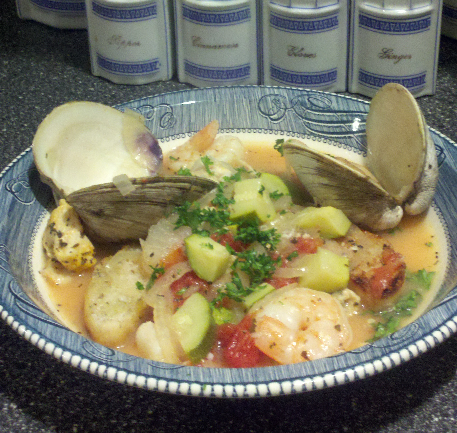 I like to serve this in a wide shallow bowl. This allows you can see all the beautiful elements in the stew.
Stew:
3 Tablespoons EVOO
1 large yellow onion thinly sliced
1 can (14 ½ ounces) tomatoes, undrained and coarsely chopped
2 Cups dry white wine
1 bottle (8 ounces) clam juice
2 garlic cloves minced
1 bay leaf
1 teaspoon dried basil
½ teaspoon dried thyme or 6-7 fresh sprigs of thyme tied together for easy removal
½ teaspoon orange zest
¼ teaspoon black pepper
1/8 teaspoon cayenne pepper
½ lb firm whitefish fillets such as flounder, cod, or sea bass cut into 1 inch pieces
½ lb medium shrimp peeled and deveined
12 clams (I use little neck clams)
2 medium zucchini, quartered and cut into ½ inch thick slices
½ lb large sea scallops
Bread:
12 slices of French bread prepared as in the "Basic Grilled Crostini" recipe
Garnish:
2 Tablespoons fresh chopped parsley
Directions:
Heat the oil in a 6 quart Dutch oven over medium heat. Add the onion and sauté gently for about 10 minutes or until the onions are very soft.
Combine 1 cup of water, tomatoes, wine, clam juice, garlic, bay leaf, basil, thyme, orange zest, black pepper and cayenne pepper with the onions. Bring the mixture to a boil and then reduce the heat. Simmer partially covered for 15 minutes.
Add the fish, shrimp, clams and zucchini and cook covered for 5 minutes. Add the scallops and continue cooking covered for an additional 5 minutes. When the stew is finished, the fish will be opaque and the clams will have opened. Make sure you discard any unopened clams, the bay leaf and the fresh thyme sprigs if you are using.
Prepare the bread as described in the "Basic Grilled Crostini" recipe located under "Appetizers and Dips".
Serve the stew by placing 3 slices of crostini in each bowl. Place the various seafood elements from the stew attractively in each bowl. Ladle the stew broth and vegetables over the crostini and seafood and garnish with fresh parsley.