Recipe of the Week
Homemade Potato Salad
March 8, 2012
My wife doesn't like potato salad with a lot of mayonnaise. I developed this recipe with her palate in mind. I use this as a basic guide and often adjust the flavors. Something as simple as changing the fresh herb or the addition of whole grain mustard can tailor this salad for a specific meal.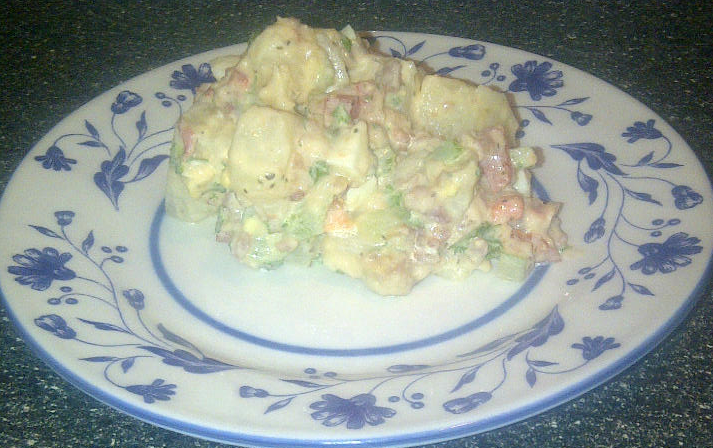 Homemade Potato Salad
Ingredients:
*4 cups of peeled cubed potatoes (about 2 large potatoes)
* ½ cup Kraft Zesty Italian Dressing
* ½ lb of bacon fried and minced
* ¼ red bell pepper chopped small
* ¼ cup banana pepper or celery chopped small
* ¼ cup carrots chopped small
*3 Tablespoons pimentos
*2 hard boiled eggs
*1 Tablespoon grated horseradish
*2 teaspoons dry mustard
* ½ teaspoon kosher salt
* ½ teaspoon cracked black pepper
* ½ teaspoon celery seed
* ¼ cup fresh chopped parsley or your favorite herb
* ¼ cup real mayonnaise
Directions:
Peel and rinse the potatoes. Cut them into small uniform cubes and place them into a pot of water immediately.
Bring the potatoes to a boil and cook for approximately 3 minutes. Be very carful not to overcook them.
Drain the potatoes and spread them out on a baking sheet to cool.
While the potatoes are steaming, season them with salt and pepper to taste.
Let the potatoes cool completely to room temperature before proceeding to the next step.
Once the potatoes are cool, drizzle them evenly with Italian dressing. Toss to make sure they are totally covered.
Add the remaining ingredients and gently toss until the salad is fully formed.
Cover and refrigerate the salad for at least 1 hour before serving. This will give the flavors a chance to fully meld.