Veal Francaise
This is one of those meals that reminds me of dining in New York. When I visit my family there, it is a favorite of my brother-in-law. He orders it every time we go out.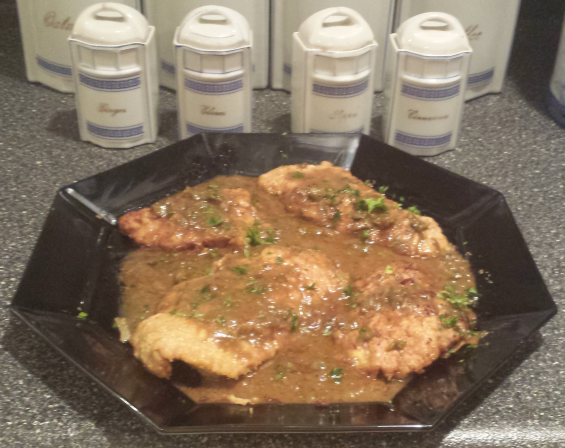 It's fast and easy to make and brings a certain opulence to the table.
Make this as your main course the next time you prepare and serve an Italian meal. Your guests will be sure to be impressed!
Ingredients:
*6-8 Veal Scaloppini
*2 Tablespoons EVOO
*2 Tablespoons butter
*1 cup flour
*Kosher salt to taste
*Cracked black pepper to taste
*1 teaspoon cayenne pepper
*1 teaspoon paprika
*2 eggs plus 2 Tablespoons water
*3/4 Cup chicken broth
*1/4 Cup dry white wine
*1 teaspoon soy sauce
*1 teaspoon Worcestershire sauce
*1/4 teaspoon whole grain mustard
*Juice of 1 lemon
*1 1/2 Tablespoons capers chopped
*2 more Tablespoons butter
*Fresh chopped parsley to garnish
Directions:
Place 2 veal scaloppini in a gallon freezer bag and lay them flat on the counter. Gently pound the scaloppini with a kitchen mallet to tenderize and flatten.
Prepare your dredging station. Set up one large bowl by mixing the flour, salt, black pepper, cayenne pepper and paprika together. Whisk the eggs and water in another bowl.
Begin heating the EVOO and 2 Tablespoons of butter in a skillet over medium high heat.
Dredge each scaloppini through the seasoned flour making sure to coat it completely. Shake off any excess flour and dip each piece into the egg bath coating both sides.
Place half the scaloppini into the hot skillet and fry for approximately 2 minutes on each side. Repeat the process until all of the veal is cooked.
At this point if you are making the meal ahead, you can lay the veal in a single layer on a platter and refrigerate it until you are ready to serve. Otherwise place the veal on a lined sheet tray and keep it warm in a 200 degree oven while you build the sauce.
When you are ready to proceed with the rest of the meal, add chicken broth, wine, soy sauce, Worcestershire sauce and mustard to the skillet. Bring the mixture to a boil and reduce by half.
Add the lemon juice and capers and continue cooking for an additional 5 minutes.
At the end of the cooking time whisk 2 Tablespoons of butter a little at a time into the skillet.
If the scaloppini was made ahead of time and is cold, reheat it in the microwave until just warm. Gently place the veal back into the skillet and coat it with the sauce.
Serve it on a platter large enough to hold the veal in a single layer. Pour all of the sauce over the veal and garnish with fresh parsley.
And, here's the side dish I served it with one night (October 5, 2014.) It's Spaghetti Rigati with a simple tomato & sausage sauce and Basic Grilled Crostini.