Recipe of the Week
Venison with Crimini, Shiitake and Oyster Mushrooms
June 14, 2012
Several of the guys who work in our small landscaping business love to go deer hunting in the fall. I find myself with deer meat in the freezer as a result of their generosity. This recipe produces meat that is fork tender and is topped with a sauce that is peppery and delicious.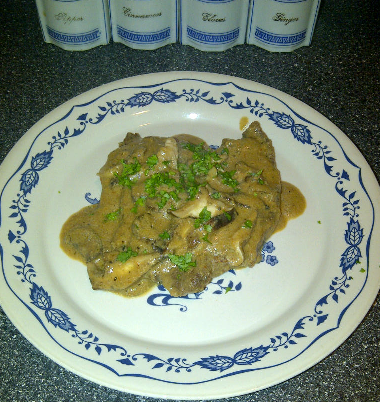 I've heard people say they don't care for deer meat because it's too gamey, but this recipe is actually pretty tender.
Ingredients:
*1 ½ lbs venison steak
*1 ½ Tablespoons bacon drippings
* ¼ cup flour
*2 Tablespoons butter
*2 cloves of garlic minced
* ½ teaspoon hot pepper flakes
* ¼ cup red wine
*3 cups whole milk
* ½ Tablespoon basil
*1 teaspoon thyme
*1 Tablespoon Worcestershire sauce
*1 onion thinly sliced
* ½ red bell pepper sliced
* ½ cubanal pepper sliced
*1 ½ cups crimini mushrooms
*1 ½ cups shiitake mushrooms
*1 ½ cups oyster mushrooms
*Kosher salt to taste
*Cracked black pepper to taste
*Parsley for garnish
Directions:
Rinse the steaks with cold water and pat them dry with paper towels.
Season both sides of the steaks with salt and pepper to taste.
Sprinkle the flour evenly on both sides of the steaks.
Heat the bacon drippings over medium heat until hot.
Brown the steaks on both sides and remove them from the pan.
Add the butter, garlic and hot pepper flakes and cook briefly.
Deglaze the pot with wine making sure to scrape the tasty morsels from the bottom. Remove the pot from the heat and set aside.
Meanwhile in another pot, heat the milk to just below the boiling point. Pour the hot milk back into the original pot.
Add the basil, thyme and Worcestershire sauce. Stir to make sure all the ingredients are thoroughly incorporated.
Place ½ the onions in the pot. Layer the steaks on top of the onions. Put the rest of the onions and peppers on top of the steaks.
Bring the mixture to a boil and then reduce the heat. Cover and let the steaks simmer for 1 ½ hours.
Remove the cover and continue cooking at a simmer for 1 hour.
Carefully remove the steaks from the pot and set aside.
Use an immersion blender to puree the liquid in the pot into a sauce.
Taste the sauce and season with salt and pepper to taste.
Put the steaks back in the sauce and cover them with mushrooms.
Partially cover the pot and continue cooking for ½ hour. At this point the mushrooms will be cooked.
Place the meat on each plate and cover it with mushrooms and sauce.
Garnish the plate with fresh chopped parsley.