Recipe of the Week
Garlic Crusted Wings with Ranch Parmesan Sauce
August 30, 2012
I came up with this idea after making "Garlic Crusted Rack of Lamb." I thought the flavors would meld nicely with chicken wings and they really do! This is a very nice alternative to the traditional Buffalo wings.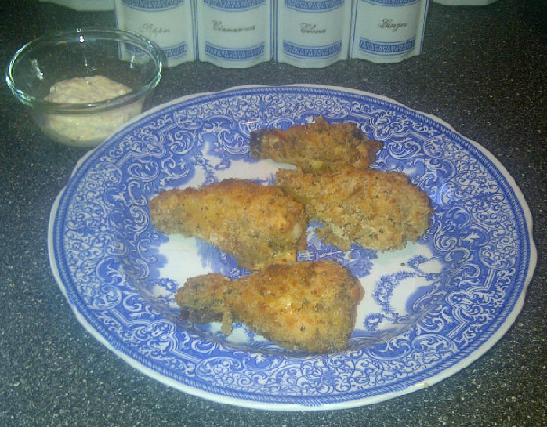 Ingredients:
*6 chicken wings
*1 head of garlic
*2 Tablespoon EVOO divided
* ¼ cup water
*1 ½ Tablespoons whole grain Dijon mustard
*1 Tablespoons fresh lemon juice
* ¼ teaspoon kosher salt plus more to taste
* ¼ teaspoon cracked black pepper plus more to taste
*1 cup fresh white breadcrumbs
*3 Tablespoons melted butter divided
*Cooking spray
Dipping Sauce:
* ¼ cup Ranch dressing
*Zest of ½ a lemon
*2 Tablespoons freshly grated parmesan cheese
*Kosher salt to taste
*Cracked black pepper to taste
Directions:
Prepare a small casserole dish by applying cooking spray.
Remove most, but not all, of the husk from the garlic clove.
Cut the clove in half and lay them cut side up in the casserole dish.
Drizzle 1 Tablespoon of EVOO over the cut sides of the garlic.
Pour the water around the cloves.
Cover and bake in a preheated 375 degree oven for about an hour or until very soft.
Allow the garlic to cool slightly and then squeeze the cloves into a small bowl. Discard the remaining husks.
Add the mustard, lemon juice, ¼ teaspoon salt, ¼ teaspoon pepper and the remaining tablespoon of EVOO to the garlic. Use a fork to smash and mix the garlic cloves until an even paste is formed. Cover and set the mixture aside until ready to use.
Prepare the fresh bread crumbs by processing the bread in a food processer. Season them with salt and pepper to taste. Set them aside until ready to use.
Prepare a baking sheet by applying cooking spray.
Arrange the chicken wings so that they are not touching each other.
Generously season the wings with salt and pepper.
Bake them for one hour in a preheated 350 degree oven. Turn them once during the cooking process.
Meanwhile, prepare the dipping sauce by mixing the Ranch dressing, lemon zest, parmesan cheese, salt and pepper. Let the sauce rest in the refrigerator for about an hour to give the flavors time to meld.
Melt 2 tablespoons of butter and whisk it into the garlic mixture. Keep whisking until the mixture begins to emulsify.
When the wings are finished cooking, remove them from the oven and toss them in the garlic mixture. Make sure that the wings are completely coated.
Roll the wings evenly through the prepared bread crumbs. Lay them on a baking sheet lined with parchment paper. If possible, make sure they are not touching.
Melt and drizzle the remaining tablespoon of butter over the wings.
Place the baking sheet under the broiler for approximately 3 minutes. Check them often so they don't begin to burn.
When ready, serve them hot with plenty of the dipping sauce.