Leaf Removal
Your lawn is busy underground all during the winter. Each blade of grass is busy manufacturing food in its' root system. That way, grass can continue to grow underground, even during the dormant season.
Actually, your grass needs food now more than ever to keep it strong in the cold months. So, it's really important to get those leaves off your grass.
We can help you in several different ways. Our leaf vacuum has a 15 foot hose that can reach across your property to suck up huge piles of leaves. It mulches the leaves as it vacuums them.
This makes the entire process much more efficient. We're able to haul solid and compact loads of leaves off your property. Additionally, we use top of the line backpack blowers to reach into every nook and cranny of your yard to erase all traces of autumn.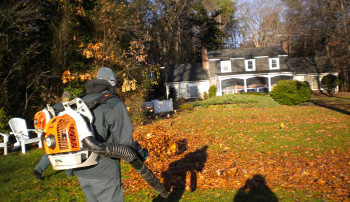 However, you may be a do-it-yourselfer who actually enjoys raking and removing leaves yourself. We can assist you in a very economical way.
After you create piles of leaves, we're available to bring our leaf vacuum to your property to take them away. We can vacuum them for you and haul the load to the landfill. You'll save money on our labor and truck charges this way. You'll only pay for the time we spend to remove the piles, a nominal equipment fee and a small landfill charge.
We offer rapid response leaf removal services that are thorough and efficient. If you have a family function or a party scheduled, call us to clean up right before the event. We'll juggle our schedule to accommodate you.