Woods Restoration
You may have overgrown woods on your property that has been unusable for years. If you do, we can turn your woods into a park-like setting.
The concept of woods restoration is fairly simple. Your woods may be a snarled mass of trees, limbs, vines and weeds. We work to cut back limbs and pull vines from trees. This type of work is usually completed during the winter months, when leaves are off the trees and most vegetation is completely defoliated.
We use environmentally friendly, walk-behind mowers which can mow down trees up to 4 inches in diameter. Use of this type of equipment has been approved for work along shorelines near the Chesapeake Bay. It is much less invasive to the environment than most bush hogs.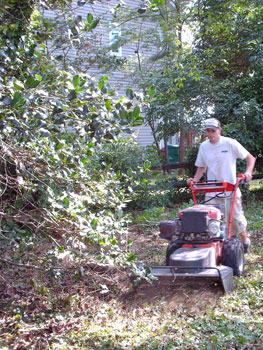 Before doing any type of woods restorations, you must obtain the proper permits. When completing woods restorations, we work in conjunction with county government to assure compliance with local ordinances. We specialize in obtaining environmental permits and making sure that mitigation requirements are met in Talbot County.
Mitigation is a fact of life here on the Eastern Shore. Mitigation is the process of assuring that you address compliance with state critical areas laws. It means that when you cut a tree down, you must replace that tree in another spot. This applies to any tree or vegetation within 1,000 feet of the water. Hardly any place in Talbot Co. is over 1,000 feet away from the water.
Current methods of mitigation are to replant vegetation on another area of your property. At times, you may be able to trade landscaping plants for trees. Three bushes generally equate to one tree that has been removed. Or, you may elect to pay into a state fund for critical areas compliance. Current charges are $3,000 per acre of vegetation that has been cut down.